Eyeglass Repair
Eyeglass repair performed quickly and inexpensively, we can solve most any problem you have with your eyeglasses.
Click here to print our "Mail-in Service Form".
Frequently Asked Questions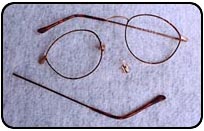 Eyeglasses Before Repair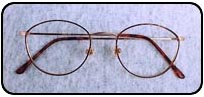 Eyeglasses After Repair
What can be repaired?
Almost anything. Most any solder point: repair of pad arms, replacement of temple hinges, reattachment of bridge.
Can plastic frames be repaired?
YES! Replacement of hinges is a very common repair. We can also re-insert your lenses into a new plastic frame that is comparable to your old frame.
Are new parts available for my frame?
YES! We carry a large inventory of replacement parts for your frame, such as temples, pads, temple covers, etc.
Is re-assembly important?
YES! Proper re-assembly of eyeglasses after a repair is critical for good vision. We are staffed by professional licensed opticians to align lenses and re-adjust frames for a new condition fit and feel.
Will Discoloration occur?
During the repair process, some finish damage may occur. We have electroplate equipment to restore finish to like new condition, leaving an almost undetectable repair.
How long will I be without my glasses?
Glasses are repaired and returned the same day they are received. We will return them to you via U.S. Priority Mail.
Click here to print our "Mail in Service Form".